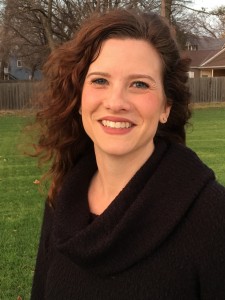 Shalom! My name is Rachel Ringenberg Miller, pastor of Shalom Mennonite Church. I have lived and ministered in a variety of places, and now call Newton home.
No matter where I find myself, I'm continually surprised how much church is the same no matter where you go, yet it is also different. We are all the same in that we all have conversations on how we "do" church together. We are different, then, in how we go about doing church. The same, yet different is what I love about the Mennonite church. I love that we discern together as body of believers to figure what how God is calling us to faithfully live as a congregation within our own particular community. Each of us (individually and collectively) have a role to play in bringing heaven to earth. I delight in exploring in what God's calling looks like people individually and within the congregation.
Outside of pastoral ministry, I can be found hanging out with my two young children and husband, out for a run or cooking up a new recipe for dinner.
To those who already call Shalom home, let us be open to where God is calling and to those who are new to the Shalom community, may you find Shalom to be welcoming place of God's love.
In peace and grace,
Rachel